Designed by Michael Young and Coalesse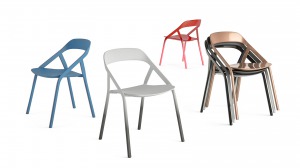 The <5_MY chair is composed entirely of carbon fiber, allowing it to support up to 300 lbs. while weighing less than five.
With its modern form and customizable color palette, <5_MY invites personal expression and channels modern craft.
Weighs less than 5 lbs
Stacks up to 4 high for convenient storage
Available in 6 standard finishes
Provides a unique solution for a variety of environments
Click here for additional information and resources.